Download This Recipe as a PDF
80g Browned Butter

160g Icing Sugar

60g Ground Almonds

60g Plain Flour

200g Egg Whites

15g Honey

10g Baking Pow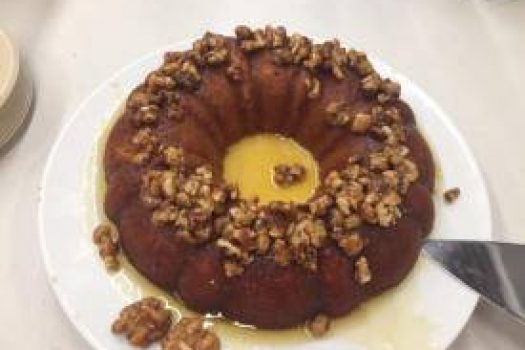 1.Put the butter in a small pan, heat until browned and allow to cool.
2.Mix Dry ingredients in mixer.
3.Add the egg whites and whisk to combine.
4.Add the browned butter (make sure it's cool)
5.Finally add the Honey.
6.Lightly spray baking tin with a little oil and then pour in the cake batter.
7.Rest in fridge before baking.
8.Cook at 160 degrees for 22 minutes.
9.Remove and cool on a cooling wire.
10.Spike all over with a knife and drizzle more Honey.
When you can't see, working out when butter is browned depends more on hearing.  Essentially, I listen until it has stopped making a bubbling, boiling sound which is when most of the water has boiled away and then rely on smelling when the butter becomes more cooked/darker/nuttier.
I added the zest of one orange: half in to the batter and the other half on the bottom of the baking tin.I added the juice of the orange to the honey and heated together to allow to thicken for pouring over the cake.
I chopped some walnut pieces and toasted them in a small pan until I could smell them cooking and then poured in some honey and kept the nuts moving until they were well coated and the honey hot.  Turn out on to a plate or piece of parchment paper and break apart.
I'd like to serve this with a frozen plain yoghurt (or crème fraiche) spiked with more orange zest plus segments of fresh orange.