Just as full of flavour and satisfying as a version with meat – serve with couscous.

Download This Recipe as a PDF
2-3 tbspOlive oil1Aubergine, thickly sliced and each slice cut in to quarters or smaller
2Red peppers, de-seeded and cut in to pieces about 1 cm square
1Large courgette,  thickly sliced and each slice cut in to quarters1Onion, peeled and cut in to 1 cm dice
2Cloves garlic, peeled and crushed
*2 Inches/5 cmCinnamon stick
1 tspGround cumin
1 tspGround ginger
*½ tspGround cinnamon
½ tspGround paprika
*1lb/450gmsFresh tomatoes, peeled and diced
½ tspHarissa paste
30oz/400 gramsTinned chickpeas, drained
8Dried dates, chopped
1 tbspCoriander leaves, chopped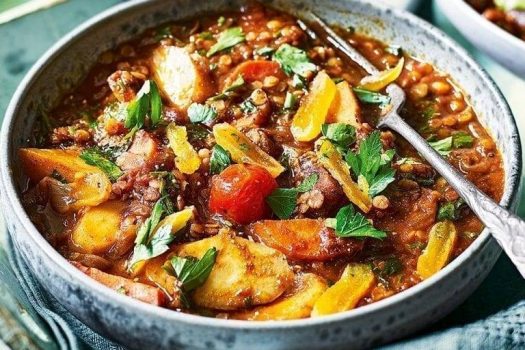 1.Heat the oil and brown the lamb in batches before removing and seasoning.
2.In the same pan, gently cook the onion until it starts becoming translucent and softened, then add ginger, garlic and chilli and allow to cook for a couple of minutes.
3.Return meat to pan and all other ingredients except lemon and orange.
4.Bring to a simmer then place in oven on lowest heat for 5 hours.
5.Add lemon and orange zest and juice about an hour before serving
If you don't have the authentic tajine dish (or want to keep it just for serving), cooking an ordinary casserole with a close-fitting lid and a circle of parchment paper (cartouche) on top to keep the moisture.
I use three portions of GGG instead of the ingredients marked with *.
You could also add a pound or two of tomatoes.
The amount of stock should be only enough to cover, especially if using tomatoes