Just as full of flavour and satisfying as a version with meat – serve with couscous.

Download This Recipe as a PDF
2 onions, peeled and chopped.
6 cloves garlic, peeled and chopped.
2 stalks celery, peeled and chopped.
4 portions GGG.
2-3 tablespoons olive oil.
25g ras el hanout Moroccan spice mix.
1.5kg lamb, cubed.
3 carrots, peeled and chopped.
1 sweet potato, peeled and chopped.
Half cauliflower or 2 courgettes, chopped.
2 handfuls dates, chopped.
Small tin tomato paste.
Large tin chickpeas, drained.
Large tin tomatoes.
3 teaspoons harissa paste.
2 tablespoons ground almonds (optional).
3 chicken stock pots.
Ground black pepper.
1 orange, zest and juice.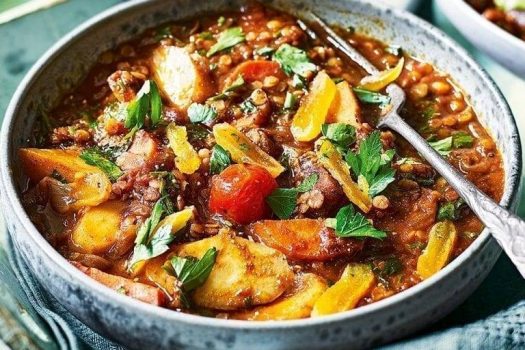 Sauté the onions, garlic, celery and GGG in an ovenproof pan until the onion is becoming transparent then add the spice mix and stir until fragrant.
Add the lamb a little at a time, before adding remaining ingredients (except the orange).
Cover the pan with its lid or a double layer of foil (with steam hole) and place in a preheated oven 50C or lowest Gas possible.
Cook for about 8-12 hours (meat should reach 70C).
Add orange juice and zest then adjust seasoning if necessary.
If you don't have the authentic tajine dish (or want to keep it just for serving), cooking an ordinary casserole with a close-fitting lid and a circle of parchment paper (cartouche) on top to keep the moisture.
Double the quantities for 20-24 people and cook for 24 hours.   It freezes well.
Serve with couscous or rice and more (roasted or green vegetables).
I tend not to add any salt.
Adding the orange late in the cooking process keeps those flavours fresh.